By Sacha Wangmo, HAB
THIMPHU, BHUTAN: Fourteen local handicrafts artisans received a training on crafts skills and design thinking under the SHINE project funded by European Union to diversify and innovate their products. The training was conducted from 19-30 June this year in Thimphu and Bangkok, Thailand.
Sustainable hospitality industry inclusive of native entrepreneurs (SHINE) project aims to promote sustainable and inclusive tourism development in Bhutan, especially in seven targeted dzongkhags where tourism is low. This will be achieved by linking the local producers of agro-products and handicrafts with the tourism supply chain. The project is implemented by the Centre for Appropriate Technology (GrAT) based in Austria and Stenum Asia based in India with local partners, viz., Handicrafts Association of Bhutan (HAB) and Bhutan Association for Women Entrepreneurs (BAOWE).
In the design thinking workshop held in Thimphu conducted by HAB, the local artisans learned ways to think about diversifying and innovating their crafts. Design thinking is a process that helps the artisans understand their users, redefine problems and innovate their products. The process involves five stages – empathize, define, ideate, prototype and test – which the artisans learned to apply to their craft-making. The 14 local artisans represented handicrafts areas in wood, cane and bamboo, textile, pottery, and metal.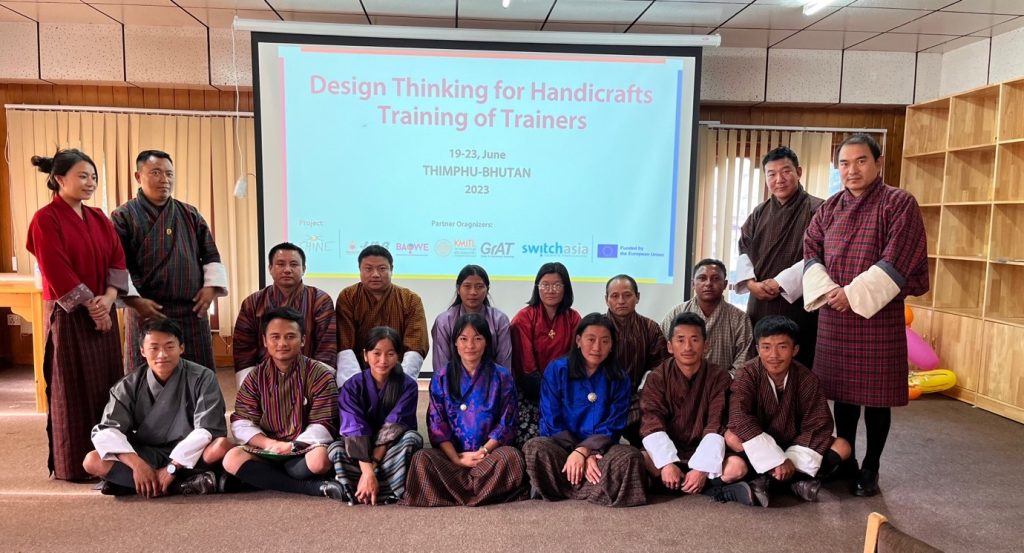 The capacity-building programme continued in Bangkok, Thailand, hosted by the School of architecture, Art and Design, KMITL (King Mongkut's Institute of Technology Ladkrabang). The artisans were linked with Thai master craftsmen and institutes to hone their craft skills. This exercise also helped to promote cross-cultural insights in craft-making and exposure to diverse artistic traditions of Thailand. KMITL also imparted training on branding and labeling of products.
"This training was an eye-opening experience for me," said Mon Bahadur Kami, 39, a blacksmith from Dagana, "I learned new skills to innovate my products apart from my usual metal craft designs."
The female duo from Lhuentse dzongkhag, Ugyen Dema, 28, and Tshering Yangki, 35, developing textile crafts said that the training broadened their horizons.
"We are trying to add value to our iconic textile brand from Khoma, i.e., Kishuthara. Through this training we learned how to design handbags for women by applying design concepts inspired by the patterns of our local fabric," said Tshering Yangki.
The local artisans also highlighted some of the issues faced in the handicrafts sector of Bhutan: the lack of well-equipped workshops, poor market, lack of interest from young people to learn craft skills, and lack of ideas to innovate their products.
"I'm quite optimistic that I can apply the skills learned through this training to innovate the metal products and overcome some of the challenges artisans face," said Ngawang Namgay, 22, from Pemagatshel, who crafts traditional trumpets. These trained local artisans are expected to share their new knowledge and skills with their fellow artisans in their respective communities of seven dzongkhags: Dagana, Lhuentse, Mongar, Pemagatshel, Trashigang, Trashi Yangtse, and Zhemgang.